The 2016 NBA season could be one of the best single seasons in the league. Not only were there many historic moments, but also many memories. Notably, the Cleveland Cavaliers beat the Golden State Warriors in the finals despite being down 3-1. But, Russell Westbrook was as close as it gets to have a rematch with now teammate LeBron James.
ADVERTISEMENT
Article continues below this ad
Oklahoma City was buzzing in 2016. They had the formidable force in Russell Westbrook, Kevin Durant, and James Harden. Likewise, this team almost made it to the finals. However, they fell just one game short, but it isn't how it looks.
DIVE DEEPER
ADVERTISEMENT
Article continues below this ad
Richard Jefferson spoke about OKC and how he expected to play Russell Westbrook and Oklahoma in the finals. He also spoke about Westbrook's shooting worries and how that could affect the result.
Jefferson didn't expect Golden State Warriors in the finals
Richard Jefferson was a part of the famous 2016 Cavaliers roster as well. While they pulled off a historic comeback in the finals, Golden State fought with all their might to even get to the finals. In a similar fashion to Cleveland, the Warriors had to overcome a 3-1 lead held by OKC to get to the finals.
While talking to Gilbert Arenas, Richard Jefferson spoke about how OKC let the series go.
He said: "We should have been playing y'all in the 2016. We should not have been playing the Golden State Warriors. Yeah, Klay had a great Game 6 and all that stuff. But dog like, y'all let that s**t go. We thought 100% you guys were the better team, the more rested team, you had a 3-1 lead. You had to beat them one time, and it wasn't all Russ' fault. I'm not blaming it on Russ, but there was just too many times where it was turnovers or like mistakes that you're like 'dude, you guys are too great to let this slip through your fingers'."
ADVERTISEMENT
Article continues below this ad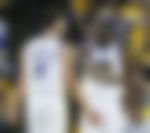 It came as a surprise for many as OKC had been playing great basketball the entire series. They were clearly the better team. However, some great contributions like Klay's 41 point game 6 performance led the Warriors to come back in the series.
Following that performance, Kevin Durant decided to join the Warriors, and the rest is history. They went on to lift back-to-back championships with KD and beat LeBron's Cavs in each of those two years.
ADVERTISEMENT
Article continues below this ad